CREWT attend ArabHealth2024.
29 Jan – 1 Feb 2024,  @ Dubai World Trade Centre
We will show you our new product "IMOvifa".
Booth No. # H7.D57
We are seeking distributor as partner > click here
CREWT Medical Systems has received ISO 13485:2016 certification!
CREWT Medical Systems has receivved the ISO 13485:2016 certification for Design, Development and Manufacture of optometry instrument.
> click here
Picks! "imo" to Outer Space ? > click here
The world-first smart perimeter IMOvifa™ is equipped with a number of advanced functions in addition to standard automated perimetry (SAP) testing.

Basic performance of "IMOvifa™"
・Target size: Goldman I – V
・Maximum Intensity: 10,000[asb]
・Background Illumination: 31.4[asb]
・Duration: 200[ms]
Features of "IMOvifa™"
・Automated visual field analyzer with SAP
・Dark room is not required
・Portable (or stationary as an option)
・One of a kind algorithm AIZE and rapid measurement by AIZE-Rapid
・Reduces patient burden by pupil tracking function (also reduces ORT burden)
・Easy-to-understand test reporting output
"smart perimeter IMOvifa™" has many groundbreaking features compared against conventional SAP."
The features include:
"smart perimeter IMOvifa™" is portable. It does not require a dark room that conventional SAP needs, allowing the test to be performed in "every" room. Certainly, the test could be performed away from the clinic.
In addition to the "single eye test" of a conventional SAP, "smart perimeter IMOvifa™" allows random single eye test "with both eyes open". Since this random test with both eyes open does not require covering one eye, a subject no longer feels discomfort when undergoing a test with a patch covering one eye, and stability for the tested eye is achieved from the binocular fixation.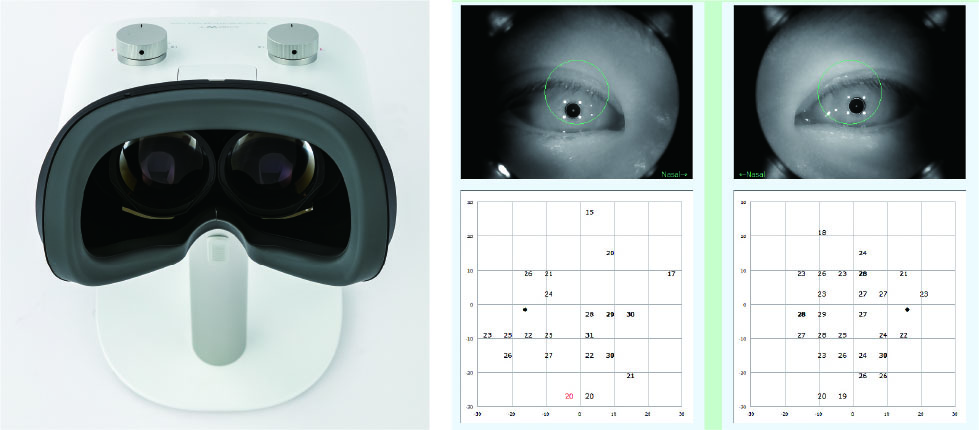 "smart perimeter IMOvifa™" is equipped with the world's first original test program AIZE (Ambient Interactive ZEST) that we developed, which shortens the time of measurement while offering the equal test performance as conventional SAP. It takes 7 minutes and 24 seconds by conventional SAP to test one glaucomatous eye while it only takes 5 minutes and 40 seconds by AIZE.
(ZEST/Zippy Estimated Sequential Testing: A psychophysical measurement that uses Bayesian estimation method and maximum-likelihood method. AIZE: It determines the sensitivity threshold of the retina by using a basic algorithm of ZEST through interaction with immediate surrounding test points. See "Products" for more details. Contact us if you are interested.)
"smart perimeter IMOvifa™" is equipped with the test program AIZE-Rapid, which shortened the time of measurement even further than AIZE. Without changing the basic strategy of AIZE, the number of trials necessary to determine a threshold is reduced to shorten the test time by optimizing convergence conditions required for determination of thresholds while giving consideration to the balance between test accuracy and test speed and estimating false negatives, false positives and visual fixation monitoring based on a subject's response during test.

In addition to 30-2 and 24-2 test patterns commonly used for conventional SAP, "smart perimeter IMOvifa™" is equipped with the world-first 24plus test pattern which increases the density of central test points. 24plus is the original pattern with increased density of test points in the macular region by adding a part of 10-2 test points that is the central test pattern based on 24-2 test points. It is also equipped with 24plus (1) pattern with 36 points extracted from points where glaucoma is commonly found within the 24plus pattern. 24plus (1) allows to complete the test even faster (90 seconds for one normal eye) and is the optimum test pattern for screening.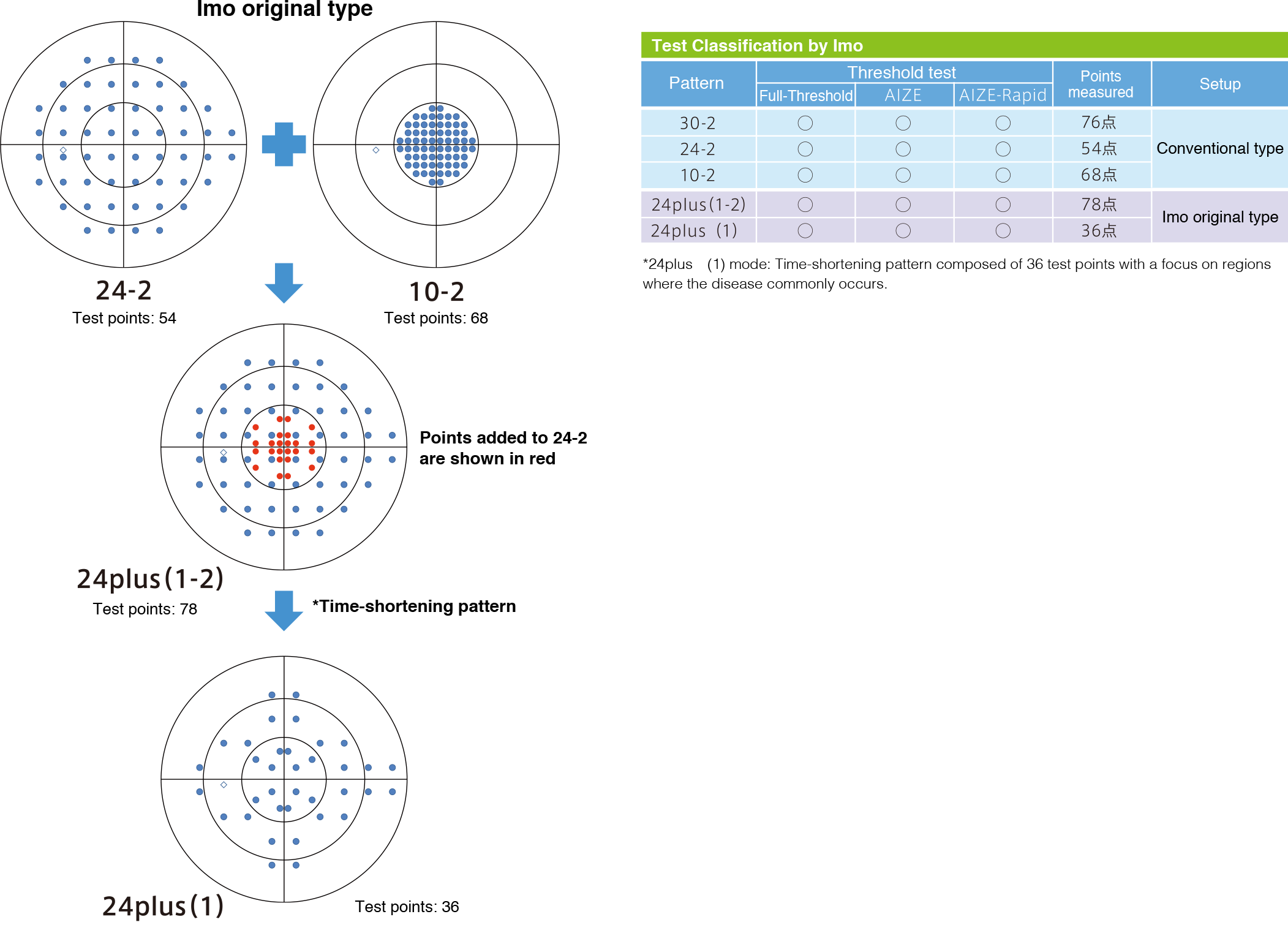 During test, "smart perimeter IMOvifa™" conducts real time monitoring of both pupils individually using a near-infrared camera for fixation monitoring. When fixation disparity occurs, its tracking function assures the test accuracy by following fixation and  automatically correcting the target location (correction range ±5 degrees). This function helps to reduce burden on orthoptists (ORT) and ophthalmic medical assistants.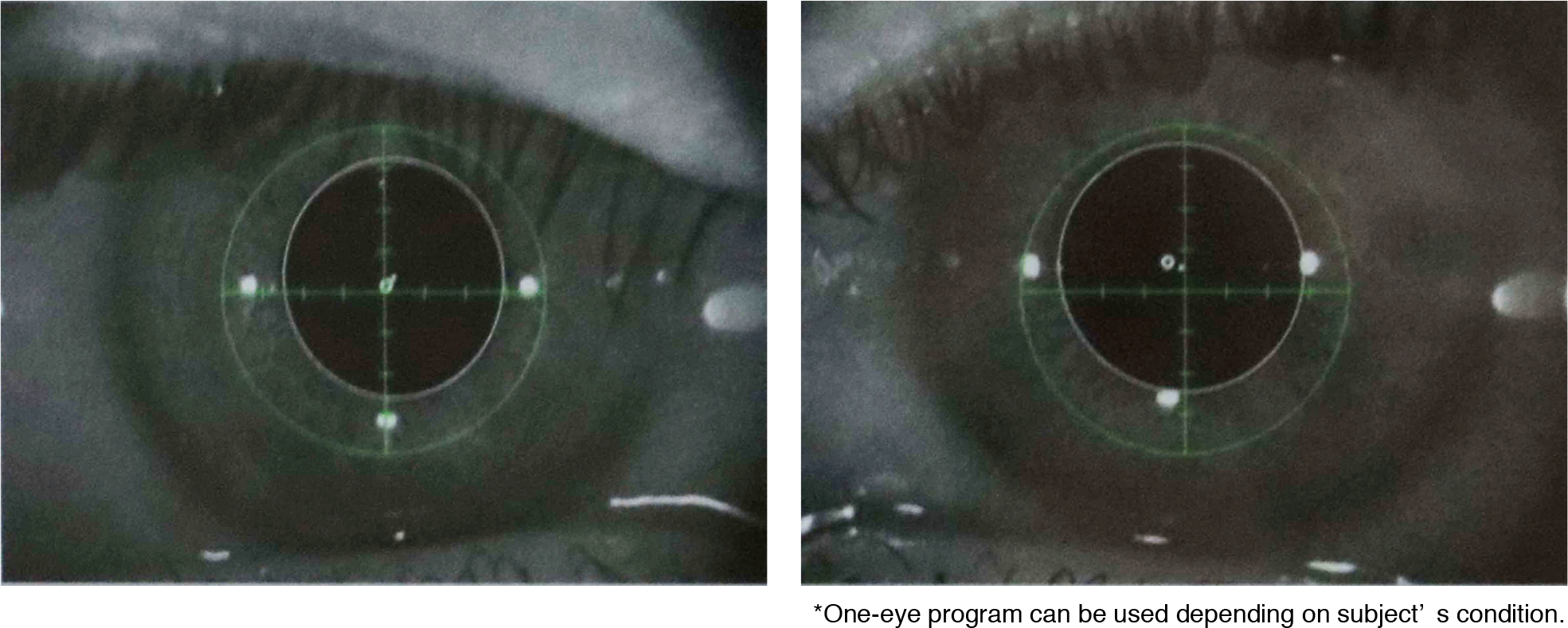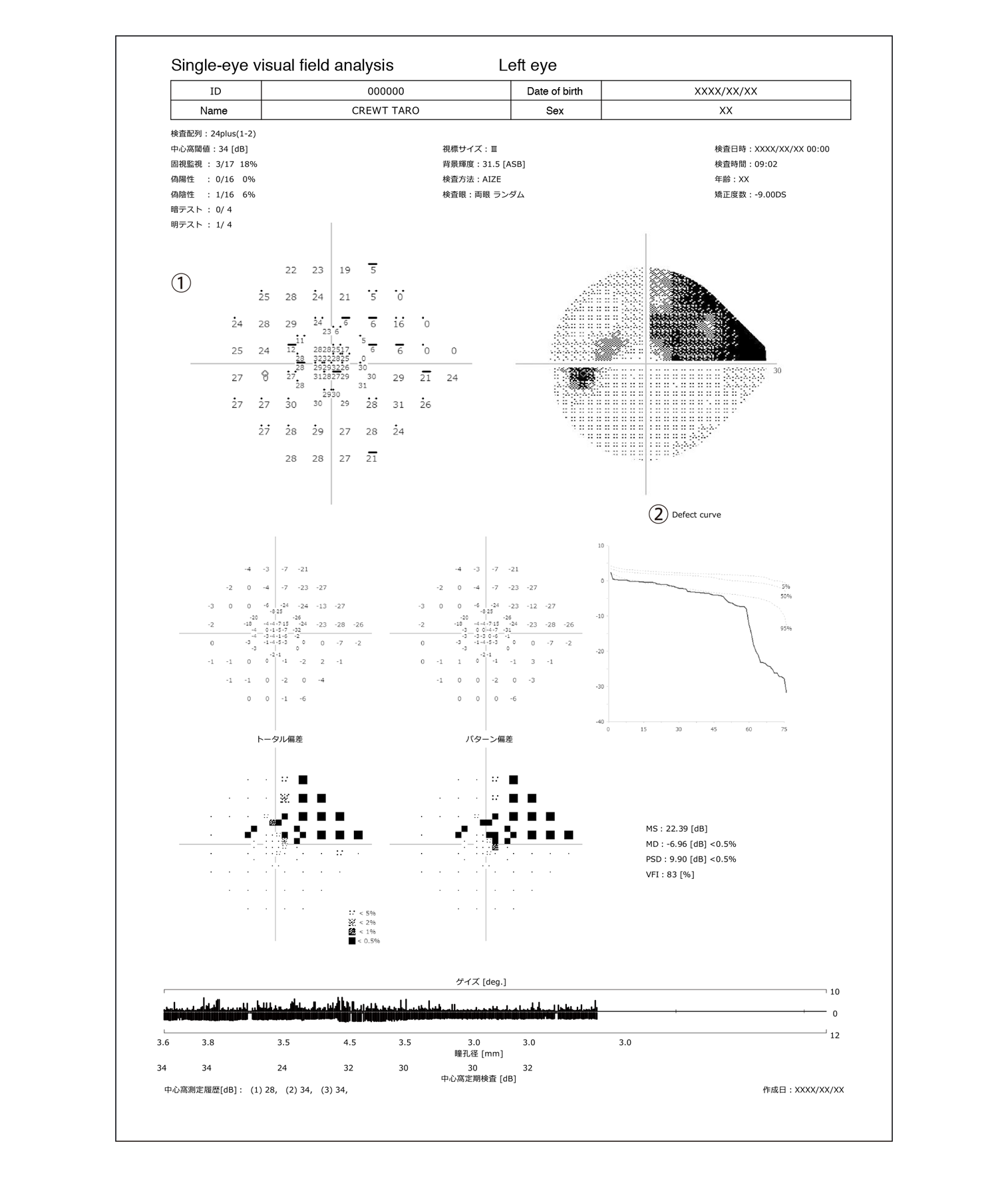 "smart perimeter IMOvifa™" presents the same measurements on a result sheet as with conventional SAP. They include actual threshold, gray scale, total deviation, pattern deviation, change in gaze amount and change in pupil diameter. To confirm the reliability of test results at a glance, it automatically detects information which cannot be identified based only on gaze information (tracking successful/failed) and graphically presents the results of detection by each measurement point for actual threshold display. By using this data, its time-shift mode increases the reliability of test as it allows retesting only points where gaze was insufficient or restarting an interrupted test at the point where the test was interrupted.